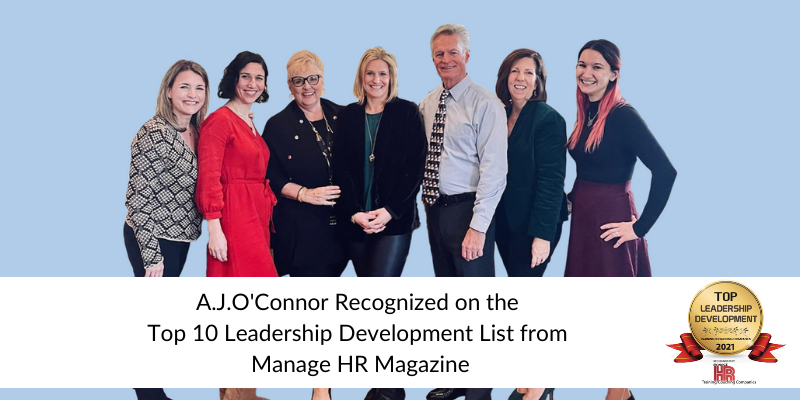 A.J. O'Connor Associates Recognized on the Top 10 Leadership Development List
Leadership development is incredibly important in today's business world. How employees learn and grow is evolving, and companies need to stay current in best practices and trending resources. One of those practices is an emphasis on continuous education and career development. These services can be implemented by businesses in a number of ways, such as career coaching, leadership development training, team coaching, or others. Regardless of how you choose to do it, having an experienced partner to help your business with coaching and leadership development can assist in taking your employees to the next level in their careers or personal lives, as well as creating an overall workplace culture of improvement.
A.J. O'Connor Associates ("AJO"), the business that empowers transformation and helps you meet your goals, has been recognized on the Manage HR Top 10 Leadership Development Training/ Coaching List. This list recognizes companies are at the forefront of tackling customer challenges. They have seen that AJO is a leader in its field of accelerating organizational growth through leadership development and coaching.
"We are proud to have more than 100 highly credentialed coaches located in over 20 countries worldwide who are dedicated to helping our clients develop and retain high-performing teams and global leaders," says Shannon O'Connor Bock, President of A.J. O'Connor. "Our clients value that we are an experienced, trusted, service-oriented company with a flexible and transparent approach to partnership."
We are thrilled with this recognition and the opportunity it presents to expand our base of wonderful partnerships. If your business is interested in any of our coaching services, contact us today!
Read more about AJO's work in the Manage HR Magazine Leadership Development issue.