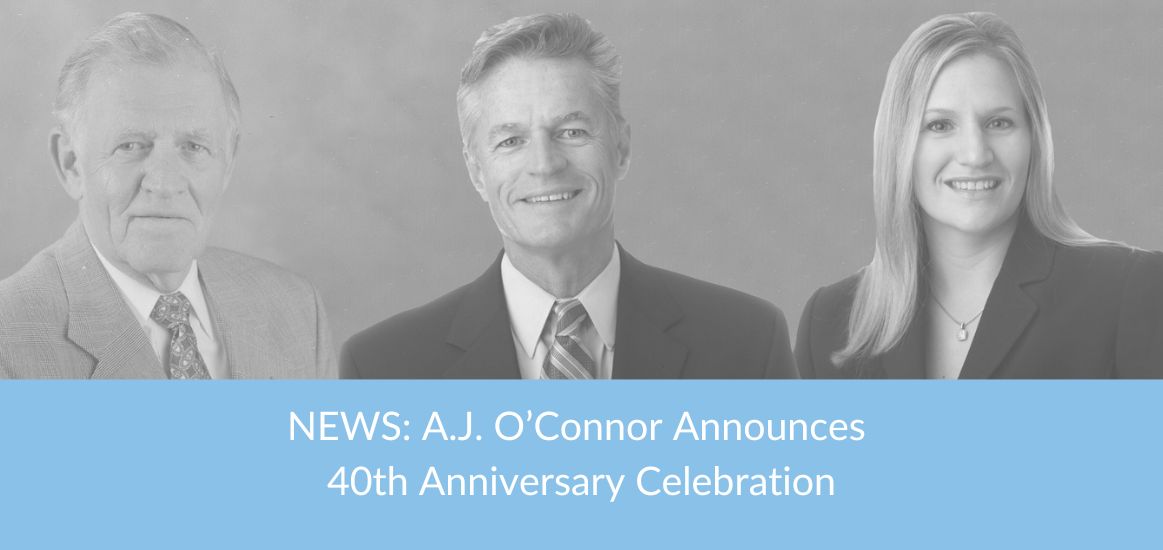 A.J. O'Connor Announces 40th Anniversary Celebration
Family-Owned HR Consulting and Leadership Coaching Firm Celebrates Four Decades of Empowering Organizational and Personal Human Resources Transformations
PARSIPPANY, N.J., April 25, 2023 – A.J. O'Connor Associates (AJO), the company known for helping organizations succeed by helping people succeed, today announced the celebration of its 40th anniversary as a family-owned, New Jersey-based business. Marking four decades of growth and success, AJO will commemorate this milestone with its valued employees, partners and clients in a celebration held on Thursday, April 27 at The Highlawn in West Orange, N.J.
AJO is a family organization built on a passion for empowering people as they navigate their career journeys to reach their full potential. Founded during a national recession in 1983 by Andrew Sr. and Betty O'Connor, the company has a deep history of delivering insights, guidance and expertise to individuals and organizations in transition, including customer organizations of all sizes across all the major Fortune 500 categories. Andy O'Connor joined the business in 1991 and succeeded his father in the role as President in 1997. Under his leadership the business services expanded to include talent and leadership development, executive coaching and consulting solutions.
In 2010, Shannon O'Connor Bock joined the family firm and, following in the footsteps of her grandfather and father, she assumed the role of President in 2022. She continues to build on the company's commitment to developing high-performing teams and global leaders for organizational success. Over its 40 years of business, AJO has continued to expand its services to deliver the full-spectrum of human resources services organizations need to grow and thrive.
"As we celebrate 40 years in business, we are incredibly proud of the deep business relationships we've built and the reputation we've earned by consistently delivering transformative results," said Shannon O'Connor Bock, President and third-generation leader of AJO. "In today's dynamic and unpredictable business environment, I am honored to carry forward our family history of integrity, empathy and accountability as an anchor to our services. These values continue to drive our success and frame our growth as we position ourselves for the future."
"AJO continues to hold true to its mission to help organizations succeed by helping people succeed," said Andy O'Connor, Principal and former President of AJO. "Our decades of growth have come through perseverance and a passion for our family-centered values that puts relationships first. I am honored to see the AJO legacy continue on so successfully and look forward to seeing where future decades will take us."
While the AJO 40-year business anniversary is this month, the company will continue to observe its 40th anniversary throughout 2023 featuring memories and human resources insights from years past on its website and social media. For more information on AJO's history and family heritage, visit: https://www.ajoconnor.com/history.
About A.J. O'Connor Associates
A.J. O'Connor Associates (AJO) is a third-generation, family-owned specialty HR consulting firm founded in 1983 and headquartered in New Jersey. Anchored by core family values and a commitment to building strong, long-lasting partnerships, AJO approaches its work with the confidence and experience that comes with four decades in the business. Offering HR consulting, talent development, coaching and career transition services, AJO has impacted more than 25,000 careers for individuals in more than 20 countries. AJO is the company that helps organizations succeed by helping people succeed. For more information visit: www.ajoconnor.com.