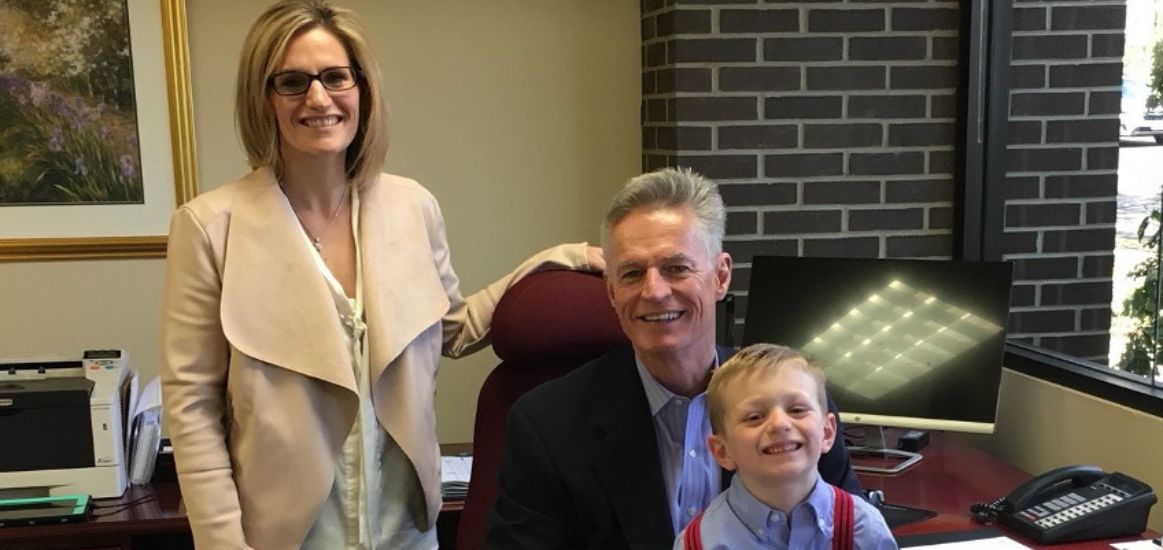 Four Decades of AJO and Counting
Today, AJO will be celebrating its 40th anniversary with valued employees, partners and clients in a celebration held at The Highlawn in West Orange, N.J. This event marks a very special moment for the family-owned business which continues to stand the test of time as it persists in its mission to help organizations succeed by helping people succeed.
This event is particularly momentous for the third generation AJO leader, Shannon O'Connor Bock. Here she reflects on her memories of AJO throughout the years and shares her vision for what the broader AJO family will bring to the industry in the decades to come.
AJO:  What is one of your first office memories of AJO?
Shannon O'Connor Bock: I have fond memories of the first AJO office where my grandparents began the company. It was a very formal and buttoned up environment, as was the culture in the 80's. My grandmother worked on a typewriter, not a computer, and the phones were very active.
In fact, my very first job at AJO was answering phones when I was a teenager. I was expected to be very professional and formal, and I performed it very seriously. Even so, it still took me a while to get a foundation and understanding of what they did. I just knew that it had great meaning to them and that their clients put a great deal of trust in their company.
AJO:  When did you become first inspired to join the family business? Was there a moment you first felt your AJO calling?
Shannon O'Connor Bock: My entry to AJO was different than my father's. For him he was called on to work at the business. And as he joined the company, he took to it quickly and naturally, succeeding his father as President in 1997. His inspiration helped to expand AJO to offer the additional services we have today including talent and leadership development, executive coaching and consulting solutions.
For me, I joined AJO at a time when I was seeking my next opportunity and wasn't sure what I wanted to do. I started by supporting AJO's marketing part time. I was focused on learning, but not with the initial intent of leading the business. However, there was a moment when a project was going slightly askew, and I found myself deeply concerned by it. I said, "we can't accept that, it's our name and reputation on the line." The moment I said that out loud I knew that I was committed to the business. I became passionate about our reputation, and our business. It was then I decided to immerse myself into learning more.
I began working with an executive coach to build my development plan. We are in the business of developing leaders and embrace these same best practices internally. Together with Andy, we established a succession plan, and I worked in various areas across the business to learn them, hands on, as I built my career. It's been very rewarding.
AJO:  What is at the core of the "Family Values" culture of AJO? How does this make AJO unique?
Shannon O'Connor Bock: One of the things AJO has always been known for is our core values. Coaches throughout the years remark "you guys are different. It just feels different here." That's because we truly hold true to our values of integrity and positive intent to uphold our fundamental commitments in everything we do. These values have truly set us apart.
This differentiation is important in our business. By putting relationships first, from employees and consultants to coaches and vendors as well as clients, we consistently work to operate with integrity. We will always retain this at the core of our business.
AJO:  Is there anything you have consciously opted to evolve or change?
Shannon O'Connor Bock: If I was to point to one thing we will continue to evolve as we grow, it's to maintain modern technology to support our business. We don't still type our proposals from dictation, as was done when my grandparents ran the business. We have evolved with the technological transformations of our time. We will continue to remain technology forward to leverage new innovations that underscore our service delivery.
Our transformation to virtual coaching and program delivery is a great example. The pandemic has truly transformed how we reach and connect with our clients. It has also expanded our program reach and increased accessibility.
But we use this technology to balance the traditional program elements that continue to remain successful such as in person team development programs and one-on-one engagements. There's room and need for both virtual and in person delivery and applying them where most appropriate enables us to achieve greater agility.
AJO:  Are there other ways you see changes in program delivery today?
Shannon O'Connor Bock: The industry has perhaps begun to lean too heavily on technology, particularly in the area of outplacement, which has become very commoditized. Technology components of outplacements are important, but we believe it shouldn't all be self-service. We continue to double down on the people side of the business and that sets us apart. We find that our one-on-one outplacement coaching is the most highly rated part of the program, and we will continue to put emphasis on those personal touchpoints. We don't believe being virtual, or hybrid, should overshadow the importance of direct human engagement.
Our instructional design is consistently adapting to new workplace dynamics. Even beyond supporting virtual and hybrid programming, we are also greatly aware of the generational needs of our clients' employees. Managing different generations, and diverse environments is a critical part of achieving cultural success for a business. For example, we see younger generations approaching their professional coaching as a valuable part of their personal development, embracing it perhaps even more easily than older generations.
AJO:  What is your vision for AJO over the next 40 years? How would you like to make your mark on the business?
Shannon O'Connor Bock: I plan to help continue to grow the business by building on our exceptional services that we've developed our reputation around. One area of the business I am particularly proud to be building is with RESERO, our accredited coach education program. We are helping to certify the next generation of coaches. Coaching is not only more prevalent, but there is much more vigor around it. With RESERO we are helping to groom a very talented new generation of coaches to put on the bench.
AJO:  Do you hope to pass along AJO to the next generation? If so, how are you preparing for that transition one day?
Shannon O'Connor Bock: It would be wonderful if we could. If one of my children (who are just 9 and 11 today) or one of the other O'Connor children wants to embrace the business one day, I will learn from the succession planning that my father and I built together. Among the core elements of that succession plan included communication strategies, learning hands on all of the different aspects of the business and placing high value on client interaction. It has also been valuable to be intentional about stepping out of the operational part of the business and into the relationship management and business development side. Transitioning relationships can be hard, so it's important to have a measured plan. I hope that I can one day build this for AJO's fourth-generation leader. It will be an incredible journey to see where we all go together.
Related Blogs: