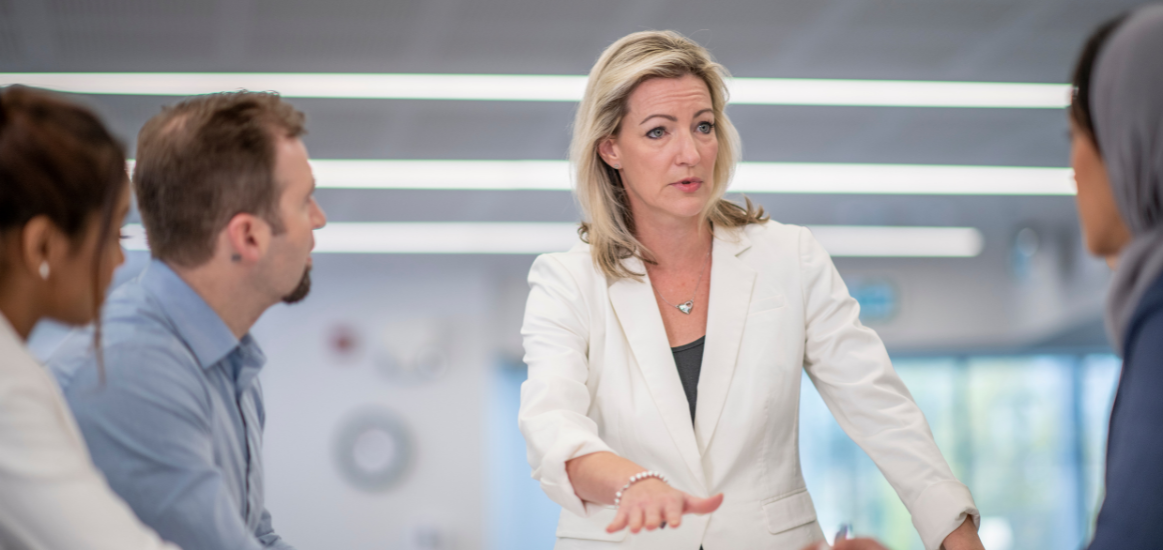 Coach's Corner: Q&A with Leanne Leonard
Continuing our special AJO 40th anniversary series of the AJO Coach's Corner blog, we are honored to feature a special discussion with one of our tenured AJO executive coaches, Leanne Leonard. Leanne provides her insightful comments on her experience regarding evolution of leadership coaching, value of networking, and facilitation virtually vs. in person and more.
Leanne's expertise comes from over a decade of experience working with senior leaders and their teams to improve performance in a variety of settings. Following years of corporate experience in progressively responsible HR roles leading global teams of up to 65 associates, Leanne has expertise in fostering organizational performance and employee engagement during periods of significant change. Read along to learn her thoughts on the evolution of today's leadership development.
AJO: How have you seen leadership development change over your years collaborating with AJO?
Leanne Leonard: Over the course of my career, I've witnessed changes in leadership development in two primary areas: delivery methods and content.
Delivery methods – When it comes to delivering leadership development programs, virtual is in. As a result of the pandemic, there's much more virtual delivery and utilization of technology (chats, videos, virtual breakout rooms etc.) through the various tech platforms like Zoom, Teams, Google Meets etc.
Development content – Leadership development content too has evolved. It has moved from "management & managing" to "leadership & leading" to "coaching & being a coach." However, the overarching goal remains the same for development – to help improve individual, and ultimately organizational, performance.
AJO: How is coaching and facilitation different in person compared to virtually? Do you have any tips to make the most of each?
Leanne Leonard: There are palpable differences being in person and on the screen.
The most obvious difference is seeing the whole person and recognizing their non-verbal cues / body language. Some theories of communication point out that at least 50% of all communication is body language – particularly when there's ambiguity in the message. That can be hard to see on the screen. Research also shows that it's easier to build trust, collaborate, ensure clarity and see emotions when in person. Being virtual vs. face-to-face means home and work are blurred. There may be more distractions, and the ability to multi-task particularly when in a group setting. It's also tough for the facilitator to be attuned to the group dynamics and connect more closely with participants, particularly when the camera is off!
However, virtual saves time, energy and expense, is convenient and allows one to impart information quickly and easily. It's widely accepted and a normal part of all businesses today. To make the most of virtual sessions when facilitating, it's good to use several interactive exercises, the chat function, breakout groups and short videos. Even wearing bright clothing can mix things up. When coaching, ensure you are taking more time, asking good questions and allowing leaders time to share their thoughts. Asking them to put the phone away and ensuring they are concentrating on the discussion is also helpful. Bottom line you have to be flexible in coaching and facilitating when people are working from home.
AJO: Are there new workplace trends that have improved today's leaders? Challenged them more?
Leanne Leonard: The focus on leaders being coaches and creating coaching cultures can help drive growth and a continuous improvement mindset within organizations. I think that has helped improve many of the leaders we have worked with.
However, there are a lot of challenges in today's workplace. The pandemic challenged all of us, resulting in people stepping back at all ages and thinking about what's important in life. For many, work is no longer the center of their lives – it's a means to an end, not an end in itself.  The remote workforce has challenged leaders to determine more effective ways to engage and build their teams. The ability to walk down the hall or stop by one's desk to "chit chat" is gone in many cases.  However, as facilitators and coaches, we see that there is still that human need to engage. When facilitating group sessions, we have noticed that many participants really want to spend time talking and engaging with one another in their breakout sessions. I think there is a takeaway there for leaders and their teams.
AJO: What should today's leaders take from successful executives a decade ago?
Leanne Leonard: Honestly, I don't think there's any time bound formula for success. My opinion is that it's what great leaders have always done: build trust, care about their people, hold them to high standards, understand their professional goals and aspirations. If leaders work to give individuals on their team hope, build confidence, help create a path forward, and most importantly communicate with honesty, they will find success. Being able to do these things in the midst of the ever-changing competitive landscape is not easy. If it was, there would be fewer people working in the Human Capital / HR field – which is definitely not the case!
AJO: What is one leadership coaching technique that has remained consistently successful over the years?
Leanne Leonard: The GROW Model. It's simple and has been around for 30+ years. It works very well as a coaching technique, particularly in goal-directed areas of business. Speaking of goals, setting SMART goals around behavior is also a technique that has remained consistently successful in helping others in their development.
AJO: You are an expert in networking. What should leaders know about the power of networking? What tips do you have to accelerate the benefits of networking?
Leanne Leonard: Networking is the exchange of information and ideas among people with a common profession or special interest, most often in an informal social setting. Networking is powerful in the following ways:
Enhances learning and knowledge – gives you information that you may have not had
Can create opportunities that you didn't know existed
Enables you to help others
Gives one increased visibility – helps you build your brand internally as well as externally
Obviously, utilization of LinkedIn is just one social media tool that aids with one's professional networking and can accelerate the benefits when used properly. But networking shouldn't end there.
To accelerate the benefits of networking, you have to put yourself out there a bit. Very few people enjoy the deliberate act of networking or attending networking events. However, if you think about networking as part of your everyday interaction with others – like taking a few minutes to ask a question or striking up a conversation – you may find you have some things in common. That's how it all starts.
AJO: What is your favorite memory from your years working with AJO?
Leanne Leonard: There are a few, and they tend to be interactions I have had with my AJO colleagues. I've always felt the values of AJO were congruent with my own – specifically a focus on personal development, building community and family. For example, I've always been asked on a regular basis by Andy, Shannon and various staff members on how my mom is doing. After years of inviting her to come to one of AJO's social events, she finally came to one about 4-5 years ago to meet all the people she's heard about and that have been asking about her! It was great fun and a chance for everyone to engage.
AJO: Is there anything else you'd like to share? Are there other insights into workplace trends that you'd like to comment on?  
Leanne Leonard: Today's workplace requires extremely agile, flexible and empathetic leaders. While change has been a constant for many years, the current rate and pace is torrid. Competition for talent is fierce and employers are working with five different generations in the workplace as well as managing through a plethora of social issues while driving to the bottom line. Those factors require leaders to display a vast amount of creativity, agility and a focus on communication and connectivity within their teams to drive engagement.
Read More
Coach's Corner: Q&A with Linda Bodnar
Coach's Corner: Q&A with Shana Lory