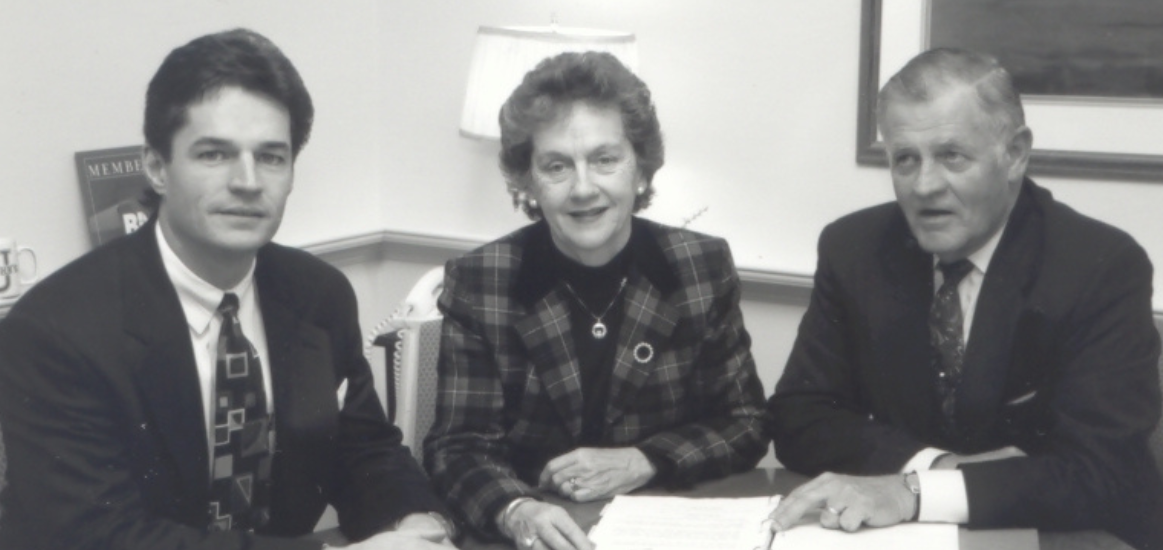 Reflections on 40 Years of AJO
On April 21, 2023, A.J. O'Connor Associates (AJO) will celebrate its 40th anniversary. Since founded by Andrew O'Connor, also known as "Senior," and his wife Betty in 1983, AJO has been helping individuals navigate their career journeys and recognize their full potential.
Over the last four decades, the NJ-based company has grown and evolved from an outplacement specialty firm to a full-service HR partner offering its clients consulting, executive coaching, and talent development, in addition to continuing the career transition services on which it was started.
In January 2022, Shannon O'Connor Bock, the first-born grandchild of Senior and Betty, was appointed president of the organization, taking the reins from her father, Andy, the second-generation O'Connor who has spent nearly 35 years in the family business. For Andy, this was one of his proudest moments, and thinking back to the early days of AJO, he cannot believe how far the family business has come.
With 40 years in business underway, the following are Andy's reflections.
The early days …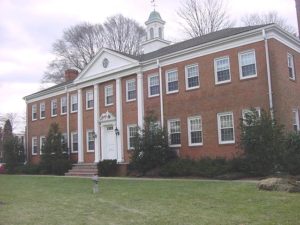 I can still remember the first AJO office space on Madison Avenue in Morristown. Located in a building with other small businesses and doctors' offices, a faint smell of cigarette smoke lingered in the hallway. My mother greeted visitors seated at a heavy wood desk that housed the only typewriter in the space, and our outplacement clients would use modest 8' x 8' office spaces while onsite. Certainly, not much to write home about, but those 1,200 square feet were the culmination of my parent's shared passion and the foundation of A.J. O'Connor Associates. They were proud to see their name on the door and to offer their insights, guidance, and support to individuals who had lost their jobs.
A former HR executive, Senior had been personally impacted by the national recession that devastated the US job market in the early 1980s. Back then, retiring from the organization that you joined at the onset of your career was quite common, so those impacted found themselves unprepared for the road ahead. After embarking upon his own job search in the basement of the family home, he recognized the importance of having resources to offer emotional, strategic and transitional support to get through this difficult time. He switched tactics, and rather than pursue another corporate HR role, he found himself at the bank taking out a loan to start his own outplacement company.
Alongside my mother and two part-time career "counselors," AJO began its journey. I'm still in awe about how much the business of outplacement has changed from these early days. It was a long process … imagine a job search without the internet! Clients would come to the office to meet with their counselors about once a week for an hour at a time. Known today as career coaches, we called them counselors then because many clients walked in the door feeling broken and lost and needed to be pieced back together to gain the confidence to go on interviews.
Resume prototypes would take between 4 and 6 weeks and would require careful coordination and communication with the printer. Once completed, clients would use their designated office spaces to manually stuff dozens of envelopes with their cover letter and resume to be mailed to HR departments for another manual review of the hopeful candidates.
Fueled by Sanka (a brand of instant decaffeinated coffee synonymous with the 1980s), the office bustled in a way that we couldn't relate to today, but it was growing and gaining a reputation in the area as one of the premier outplacement partners. And with competition from other vendors, I was faced with an important question from my father.
A second-generation joins the ranks …
It was the spring of 1991, and my wife and I were raising our two young daughters in Florham Park. After five years as a police officer, I was now working at the Attorney General's office and following my passion for serving others within the community. Senior stopped over while I was doing yard work on a Saturday to leave me with a thought to contemplate, join the family business; think about it for one month, and we'll revisit it then.
In less than a week, I went back to dad asking about how I might be able to experience the work firsthand. A few weeks later, I accompanied him to a series of outplacement workshops at our local church. I was immediately intrigued and recognized that this career change would still allow me to help others, and within less than six months, I was on my way to the office on Madison Avenue as an employee.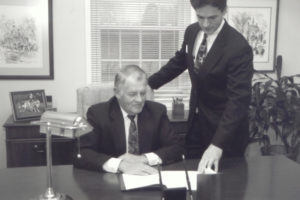 On my first day, a Rolodex, a legal-sized yellow pad, a pen, and, a phone greeted me in my small office. Senior said, ok, get us some new clients. Those early days weren't easy; I can distinctly remember butting heads with my father about how many calls I'd make in a week. I stood firm in my conviction that I was making plenty, and to prove it, I would keep a sticky note next to my phone and place a tick mark on the paper to track my count … at the end of the week, I tallied the number, and … son of a gun, he's right. What a humbling realization! With a renewed resolve, I made inroads, and our client list steadily grew.
My approach has remained unchanged – rather than go right in for the "sell," I focus on establishing and building a relationship with the intent of working together at some point. It's worked, and that focus on relationships has become synonymous with the AJO brand.
Looking toward the future …
In hindsight, I did not choose the family business; it chose me. My father saw something in me and gave me the latitude to let my entrepreneurial spirit shine. Now, I have the privilege to give that same gift to my daughter. I was able to expand the business to include HR services that reflect the current way of the world; my father wouldn't have imagined how things would have changed. I often wonder if he'd recognize the business today. As I look forward to the coming decades, I think about which of my six grandchildren will be the fourth generation and if I will recognize what the business will become as AJO continues to evolve.
Related Posts:
AJO Celebrates 40 Years of Empowering Transformations