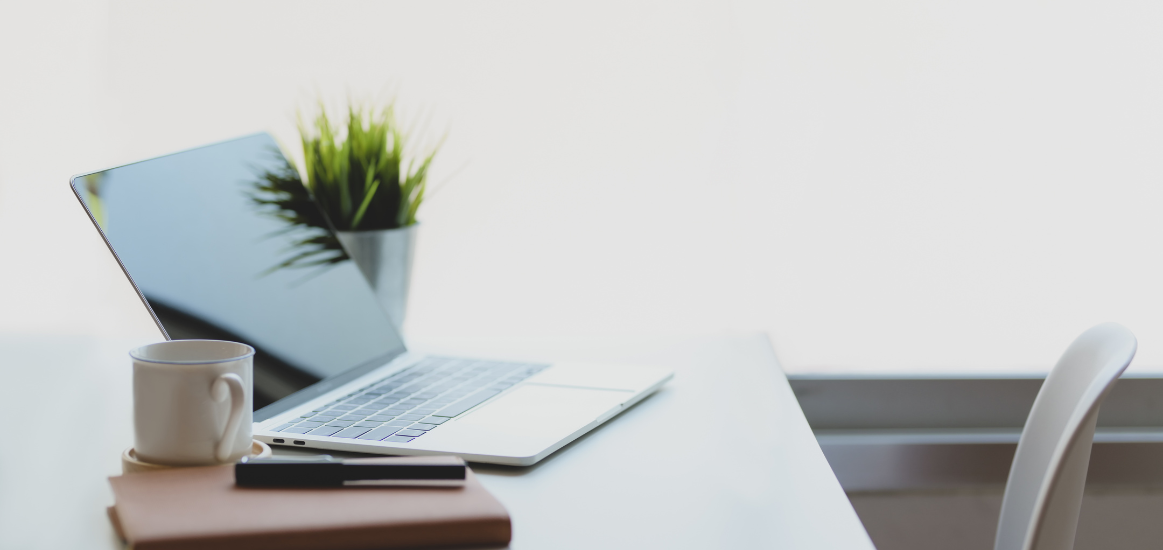 One Family. One Goal. Evolving Marketing.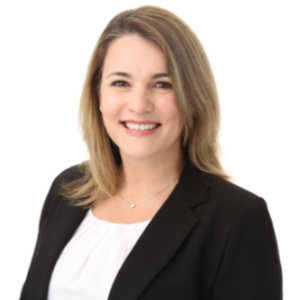 As we continue to celebrate AJO's 40-year journey, we thought this would be a perfect opportunity to reflect on the marketing evolution of the AJO brand. Here we have a dialog with AJO marketing leader, Alison Patzer, Director of Marketing & Communications as she shares the many marketing milestones AJO has marked throughout its four decades of growth.
AJO: How has the A.J. O'Connor brand evolved over the past 4 decades?
Alison Patzer: The AJO brand has been on quite a journey over the last forty years! From a look and feel perspective, the changes have been drastic. The O'Connor family's proud Irish heritage inspired our first color – a deep hunter green – a nod to the lush countryside of the Emerald Isle.
Other iterations of our brand identity have included the use of graphics to highlight our global reach and people focus. And while the logos were conveying this story, the AJO brand continued to gain momentum and build a reputation. It was time to trade the predicable imagery for something more unique and reflect our commitment to growth and pushing boundaries.
We sought to modernize our logo and design a compelling symbol that could standalone, yet remain recognizable to clients. Our iconic swooshes have been a part of our story for more than seven years and by trading green for blue, we convey trust and dependability – the core family values on which this brand was founded.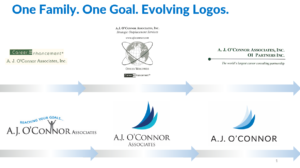 AJO: One of the more recent marketing evolutions at AJO is the company's brand refresh. What considerations were important during the brand evolution and how did you employ them into the company's modern new brand presence?
Alison Patzer: Refreshing the brand in 2021 was an exciting time for AJO. It coincided with the introduction of our new website and a refresh of our social media presence. It also aligned with the transition in organizational leadership from the second generation, Andy O'Connor III, to the third, Shannon O'Connor Bock.
Shannon played an integral role in redefining the brand in 2015 and introducing our recognizable AJO swooshes. As she stepped into the role of President, we sought to communicate and even more crisp, modern and sophisticated tone to our clients as we look to the future.
The look, feel, and sound of AJO's brand reflects the work we do with our clients. We're formal but approachable, informative but clear, relaxed but professional, and always thorough, efficient and dedicated.
AJO: What are the significant characteristics of the modern AJO brand?
Alison Patzer: The modern AJO brand represents a family legacy and is deeply rooted in Relationships. Reputation. and Results. As the head of Marketing, I feel incredibly honored to be a brand ambassador and am deliberate and protective in curating content that reflects these values. Our relationships – with our clients and our partners – are the lifeblood of our business, and by nurturing these bonds and consistently delivering results, we have earned the reputation of being focused, professional, experienced and trusted.
AJO: How has A.J. O'Connor's approach to marketing changed over the past four decades?
Alison Patzer: In our earlier days, our marketing strategy focused on problem solving based on the presenting issue, which would typically include a broad range of possibilities. Senior and Andy would visit clients prepared with an array of print collateral to showcase solutions and capabilities. We invested in pamphlets, booklets, mailers and other collateral as leave behinds to stay visible to clients and prospects and showcase the full range of our business solutions.
Our approach has evolved, and we've become more consultative and reliant upon results-based listening. Rather than immediately move to solutions, we partner with clients to conduct a thorough needs analysis to identify the root cause of the presenting challenge. We then provide targeted slicks that highlight solutions for will have the greatest impact to implementing a sustainable solution for the core issue.
Also, in today's digital world, our goal is to be crisp, concise and accessible to our client. We create and post a broad range of content that includes blogs and thought leadership content, at-a-glance industry statistics, and AJO success stories using client feedback. Clients have the flexibility to interact with the content that is most relevant to them and it's right at their fingertips when they want it!
AJO: In what ways has the company's marketing remained constant?
Alison Patzer: Since the company was founded, AJO has had the same goal of helping organizations succeed by helping people succeed. For decades, we've been working with leaders to build confidence, increase self-awareness, improve critical thinking skills and align with the right careers. This focus and narrative have been core and consistent to our marketing since 1983.
Our commitment to Relationships. Reputation. and Results. has remained a pillar of our marketing strategy. As a small business we recognize how critical each client interaction is. No matter the size of the organization or deliverable, we approach each opportunity with the same level of commitment and focus on customized solutions to achieve transformative results.
Networking and relationship building has also always been an important component of our marketing strategy. We have a longstanding history with local organizations, such as the Morris County Chamber of Commerce, ACG NJ, and NJBIA to name a few.
AJO: How has social media influenced AJO's market presence compared to when the company began in the 80s?
Alison Patzer: Social media has allowed us to showcase the people behind the brand, and in a small family business, this has been invaluable in reaching a larger audience and building more relationships. We are fortunate to have a talented bench of nearly 100 coaches & consultants who partner with us under the AJO umbrella, and by highlighting our collective achievements and recognizing shared connections, we've opened many doors for new opportunities.
AJO: In what ways do you see marketing evolving for AJO as the company accelerates growth into the future?
Alison Patzer: I see social media playing an even more integral role in our marketing strategy and would like to focus more on sharing success stories and featuring case studies about the exciting work that we do. I'm also noticing a desire for more face-to-face engagements and expect that networking engagements and thought leadership forums will continue to play a very important role in marketing and building the AJO brand in the marketplace. I am proud to be a part of it!
Read More about our 40th Anniversary!